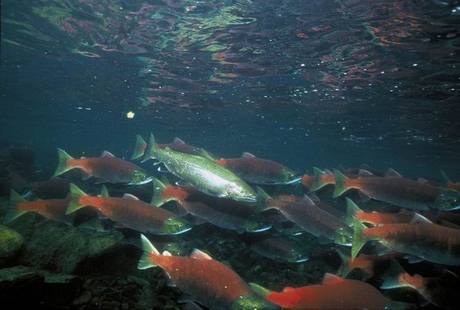 East Grand Lake Maine has some of the most phenomenal Bass & Salmon fishing
East Grand Lake is one of the largest, pristine, clear water lakes in Maine. It is surrounded by spectacular mountains and the beautiful Northern Maine woods.   The natural unspoiled setting of East Grand Lake provides the perfect environment for fish to grow and flourish, which accounts for reports of trophy sized landlocked salmon in East Grand Lake. Recently a national magazine confirmed that fishing on East Grand Lake you could easily catch more than 100 smallmouth bass in a day!
Whether fishing from the shore or a boat, East Grand Lake provides exellent opportunities for fly fishing, trolling or spin casting. You're just about guaranteed to have success fishing on East Grand Lake in Maine. East Grand Lake has the ideal conditions for spectacular fishing: irregular shoreline, rocky coves, clear, quality water and an abundance of small "fodder" fish.  The result is many large fish can be caught year round on East Grand Lake.
East Grand Lake provides what many consider to be the best landlocked salmon fishing in Maine. East Grand Lake produces many salmon over eight pounds, and it's not unusual to catch up to 30 Salmon in a single day of fishing.
Fishing for smallmouth bass on East Grand Lake is legendary. Smallmouth bass up to six pounds are often caught on East Grand Lake, and catching of three to five pound Bass are very common.
Other Fish Species in East Grand Lake
 East Grand Lake is home to several other species of fish, including :
Lake trout
Brook trout
Lake whitefish
Round whitefish
Rainbow smelt
White perch
Yellow perch
Chain pickerel
Minnows
Golden shiner
Blacknose dace
Creek chub
Fallfish
Longnose sucker
White sucker
Hornpout(bullhead)
Burbot (cusk)
Banded killifish
Ninespine stickleback
Redbreast sunfish
American eel
Landlocked alewives
East Grand Lake, Maine - Terms:
Sharing is caring:
Dialogue & Discussion