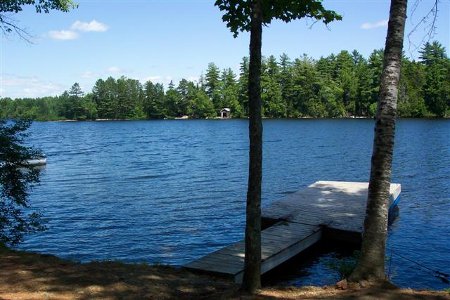 Maine camp and cabin rentals on East Grand Lake
**Maine camp and cabin rentals on East Grand Lake ** provide an opportunity to enjoy the great outdoors while on vacation or looking for waterfront real estate.
East Grand Lake, Maine has many vacation rentals and is a location that inspires the notions of  'camping under the stars', sitting around a campfire at night roasting marshmallows , listening to the song of the loons in the early morning, or of a grandfather watching his grandson catch his first trout.** Log cabin **rentals have long been associated with vacationing in Maine. Log cabins are a place where just being inside is as if you're completely surrounded by nature. The coziness one experiences from the rustic feel of being in a log cabin right on East Grand Lake; or being surrounded by trees in the forest wilderness cannot be equaled. Nothing can compare to spending a snowy, Christmas Eve, in a log cabin on East Grand Lake; surrounded by friends & loved ones, enjoying egg nog and listening to the crackle of the fire in the massive stone fireplace. Log cabins represent a sense of structure, strength & security, being sheltered from the elements during a 'noreaster' or heavy rainstorm. The natural wood of logs, creates a feeling of being as close to nature as possible, even without actually being outside, something most people find brings them a truly peaceful & fulfilling experience, and break from their busy everyday lives.
Many people are now opting to make living on East Grand Lake, their choice as their full-time residence…in order to live a different, quieter & less-chaotic, lifestyle.
East Grand Lake, Maine - Terms:
Sharing is caring:
LODGING · VACATION RENTALS · RENTALS
rentals
Dialogue & Discussion