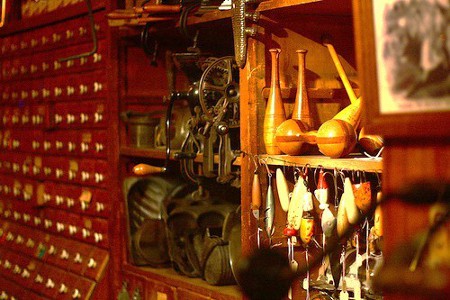 One aspect of fishing that many people enjoy, are the varied types of vintage & antique fishing tackle that fishing enthusiasts find & collect today. From rods & reels to lures, tackle boxes, creels, decoys, nets, fishing-inspired furniture, as well as the vast amount of books and other literature in print; such as fishing badges, licenses & photos…there is an incredibly vast amount of things that have made fishing a truly generational & nostalgic hobby.  There are many places a collector can find vintage fishing items to purchase…antique shops, vintage fishing auctions…and even on Ebay.
Fishing continues to be an extremely popular sport, and many like to find & collect things that remind them of fishing both now and from yesteryear…to hang or their walls & display in vacation homes on the lake. Places where young & old enjoy fishing during week-long vacations in summer, & on weekends in the spring & fall, on lakes such as East Grand Lake in Maine.   Men from our grandfather's time still love reminiscing with their famous fish 'stories' about; "the one that got away…" and they often have had large collections of fishing tackle & memorabilia, that many times became part of an estate that are being sold at auction  This has become a trend which makes the auctions a treasure trove of rare & hard to find fishing items….many selling at record prices; for items that have become very desirable.
In future posts, you will find detailed & technical information about the different types of fishing tackle, the different brands who manufactured it, as well as the history of these highly sought-after and treasured examples of American fishing culture.
East Grand Lake, Maine - Terms:
Sharing is caring:
FISHING TACKLE · FISHING
fishing
Dialogue & Discussion