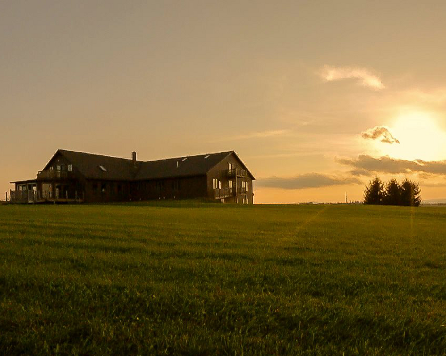 Located in the southern-most part of Aroostook County & northern-most part of Washington County, the East Grand Lake area is a great place to spend your vacation anytime of the year! Each season brings with it a multitude of things for families, couples, groups & individuals to enjoy, & having a place to stay that gives you a truly wonderful experience with attention to detail in both the decor & ambiance as well as providing outstanding personal attention during your stay.
First Settler's Lodge  
Is located in Weston, Maine; a town bordering East Grand Lake. I recently took the opportunity to try one of their delicious dinner entrees, since the lodge's restaurant is open to the public on Friday & Saturday nights.  My dinner companion & I entered the lodge through the side door & although it was another one of the many rainy days we had this summer, I couldn't help but notice the beautiful landscaping that was evident everywhere we looked. Inside was beautifully decorated in a traditional lodge-style, with several comfortable-looking couches & overstuffed chairs facing a large stone fireplace. Nice details and special touches have been added to the woodsy, yet light & airy feeling to the spacious Great Room; giving it an intimate feel. There were antique chairs & tables arranged near the many large windows to take advantage of the breath-taking views of Mount Katahdin & East Grand Lake area, which no doubt would be equally suited for reading the paper in the bright morning sun, or late-afternoon game-playing.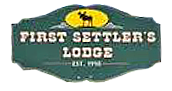 We waited there for a few minutes, enjoying the pleasant atmosphere of the great room before we were seated for dinner. The intimate dining room has 3 tables, which insures that each guest has very personal attention & service. Everything that we were served was truly exceptional. Homemade rolls arrived 1st, followed by the salads that came with our meals. The Vinaigrette dressing was incredible, and I was tempted to ask for the recipe. Our meals arrived just as we were finishing our salads. We had ordered the Parmesan Crusted Haddock and the Rib eye Steak with Blackberry Steak Sauce with Twice Baked Potato…delicious! We were very satisfied with both the size of the portions and with how everything was cooked to our preference. After finishing our meal, we were asked if we wanted dessert! We were both pretty full so we decided to take something home with us…but which one to choose?? The choice between the raspberry cheesecake, Tiramisu, or double-chocolate cake was just too difficult….so we had them box up one of each.
To view their current menu or to see what others are saying about First Settler's Lodge, you can click on their Facebook 'Be a Fan' button on their website. Or you can find reviews by their customers under the 'About Us' tab also on their website www.firstsettlerslodge.com.
The lodge offers breakfast to their overnight guests, & a variety of options to accommodate a variety of lunchtime needs; when hiking, snowmobiling, ice fishing, appreciating the fall foliage, or partaking in one of the many other local activities; are the order of the day.
Although I live in the area, I have not as yet taken advantage of staying at the lodge overnight; however, their website has a lot of information regarding the accommodations & amenities they offer. Perusing their site I found detailed descriptions & images, a 360 degree tour & a video & that shows all of their rooms, dining facilities & the banquet and function room; (perfect for a rehearsal dinner or wedding reception), and of course the great room…just about every inch of the lodge is shown. You can even rent the entire lodge if needed.
There is also information on their website about how to take advantage of different guided tours offered by experienced Master Guides, for moose & bird hunting, as well as fishing & nature tours. Seasonal 'Events' are highlighted, as well as a page of 'Things to Do'.
East Grand Lake, Maine - Terms:
Sharing is caring:
RENTALS · FOOD · LODGING · RESTAURANT
vacation rentals rentals lodging restaurants first settlers lodge
Dialogue & Discussion