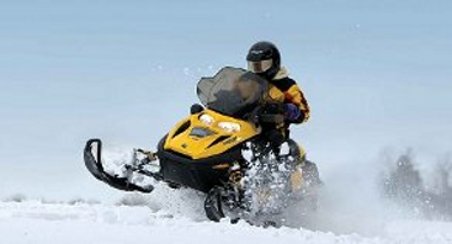 East Grand Lake Maine Snowmobiling
The areas around East Grand Lake Maine are spectacular for snowmobiling.
The groomed snowmobile trails are ideal for enjoying the winter months around East Grand Lake.
Maine snowmobile club volunteers have been developing and maintaining a system of winter trails since the 1960's, a system that has now grown to over 14,000 miles of groomed and marked trails. Riding around East Grand Lake on a snowmobile will enable you to go places and see sights that few people access at any time of the year. Along the way you'll find businesses waiting to serve you, communities that will welcome you and snowmobile clubs working to provide great riding.
Snowmobiling in the East Grand Lake area provides fun, recreation and a great way to enjoy the outdoors while seeing some of the most beautiful Maine winter scenery.  Trails are marked and maps are available to help you navigate through the hundreds of miles that are open for public use.  Snowmobile rentals are located at several of the areas accommodations geared to the snowmobiling enthusiast.  Whether it's loose  or packed powder, being in the woods, wide-open spaces, or screaming across frozen lakes; snowmobiling around East Grand Lake can be the exhilarating adventure you're looking for. Riding a snowmobile is a great way to explore all that the East Grand Lake area offers.
Trails are conveniently located near, restaurants, fuel, and other businesses; that snowmobile riders can find useful during their snowmobiling trip, & trails are marked with signs indicating their locations along the way.
To view more about snowmobiling in the East Grand Lake area including snowmobile reports, registration, an interactive snowmobile trail map & more…Click here to check out EastGrandLake.com's "TRACKS" Online Snowmobile Club.
East Grand Lake, Maine - Terms:
Sharing is caring:
SNOWMOBILING
snowmobiling snowmobile
Dialogue & Discussion