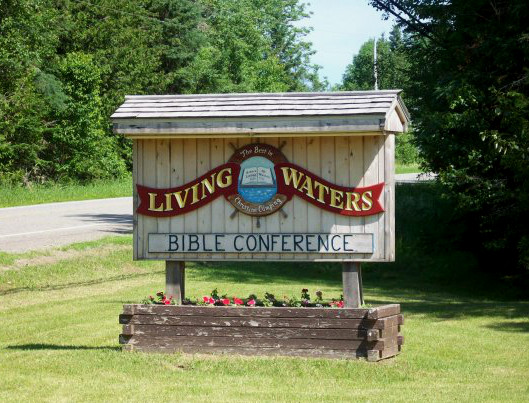 Located directly on East Grand Lake's 'Dark Cove' in beautiful Weston, Maine; rests Living Waters Bible Conference, a non-denominational Christian summer camp in Northern Maine. Unique in its mission from other 1-2 week places to send your kids during the long, hard to 'fill' summer vacation; Living Waters accommodates entire families as well as individual campers; offering a variety of summertime adventures that create meaningful and precious memories that will endure.
The emphasis is on letting go of life's everyday complications and stresses, by allowing your spirit to absorb the beauty of the natural surroundings; engaging in spiritual encounters with others, and becoming more in touch with faith & spirituality. Living Waters encourages participation in recreational and social activities that are geared towards promoting peer relationships, as well as family togetherness. The importance of gaining as well as furthering spiritual and Christian awareness, while finding solitude and peace; appear to be the goal & mission of Living Waters.
Living Waters offers specialized one or two week sessions, including Basketball & Soccer Camp , Wilderness Camp; and Super Teen Week. Each one focusing on a specific camp adventure, however; regular activities like swimming, boating, as well as many other fun activities are included. Weekend retreats are also available and are organized for specific dates during the summer months and continuing into the fall. Family Camps and Wilderness Adventures offer alternatives to the regularly scheduled weekly or bi-weekly sessions.
Well-known speakers, musicians, vocal groups & soloists, plus other special performances; are woven into the broad schedule of events; allowing plenty of time for personal reflection, bible study and organized spiritual gatherings.
For more information about Living Waters…check out their Facebook page.
East Grand Lake, Maine - Terms:
Sharing is caring:
SUMMER CAMPS · RENTALS · LODGING · VACATION RENTALS
vacation rentals rentals
Dialogue & Discussion