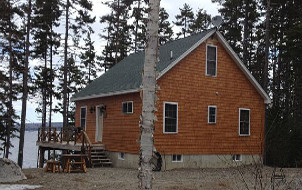 The camps & campgrounds around East Grand Lake, Maine are a great way for families to spend quality time together, while enjoying the beautiful East Grand Lake scenery & fresh air.
East Grand Lake is widely acclaimed for the most exquisite Smallmouth Bass and Landlocked Salmon fishing Whether fishing from the shore or a boat, East Grand Lake provides exellent opportunities for fly fishing, trolling or spin casting. You're just about guaranteed to have success fishing on East Grand Lake in Maine
Find the perfect home or land to buy in the beautiful East Grand lake area.