EastGrandLake.com wants to provide our visitors with up-to-date & accurate trail reports, that will help to plan a safe and fun snowmobile ride whether riding right around the East Grand area or beyond. As often as possible we will bring you trail reports from established, experienced and expert sources that have been providing this service. We recognize that getting updated, reliable & more-detailed trail information for our area has sometimes been difficult and hard to find, and we will rely on local snowmobile clubs, as well as experienced and knowledgeable riders who know these trails well; in addition to the media sources such as state of Maine related internet sites…to help us to put together a current & useful report.
EastGrandLake.com,is still in the development phase of this rather large undertaking…and being able to make this very important resource available, takes the time & energy of many individuals who are committed to providing this necessary & very valuable service. Until then, our 1st few reports will be limited to the areas that we have been able to ride to ourselves. We hope you find this information helpful… Ride safe!
Click here to go to the official Maine Snowmobile Club (MSA) Trail Conditions Report
INTERACTIVE SNOWMOBILE TRAIL MAP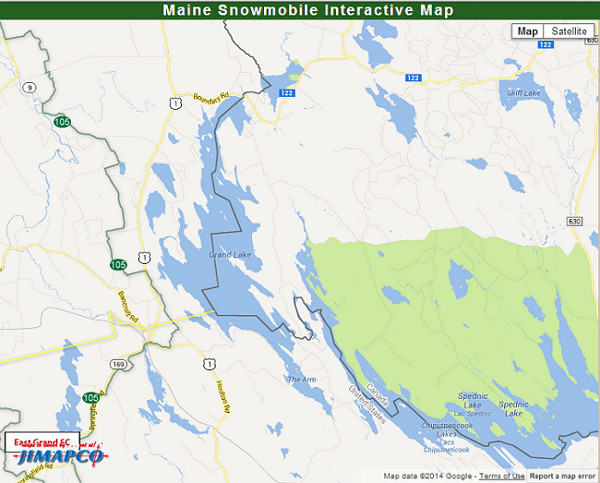 Click on the image above to go to the MSA (Maine Snowmobile Association) Interactive Snowmobile Map
East Grand Lake Snowmobile Trail Report : Vol. 8                                    Sunday March 2, 2014
A Break in the Frigid Temps…
We finally had a break in the cold temps to be able to enjoy a ride to Greenland Cove on Trail 7, via ITS Connector Trail 105 North. From Dave's Hardware in Danforth, to the Junction of 105 and 7 the trails were groomed and in good condition. Trail 7 is a beautiful ride with great views of the lake off to the right and as you descend from some of the steep hills you can see it in the distance. We headed towards the The lake passing the road to Cowger's Lakefront Cabins and then we looked for an entrance onto the lake where we passed quite a few ice fishing shacks, vehicles & snowmobiles taking advantage of the bright, sunny day since the below zero night time temperatures have made the ice thickness good enough to not have to worry about the safety. We exited the lake at Butterfield Landing following 105 back to Danforth heading south past East Grand Lake Variety and passing First Settler's Lodge in Weston, where once you enter the big field after Partridge Lane you get an incredible panoramic view.
&nbsp:
There have been a good amount of snowmobiles using the trails since the last snow and taking advantage of the best conditions of the season. Thanks to East Grand Lake Snowmobile Club which has done a great job maintaining the trails for everyone to be able enjoy. Unfortunately, frigid temperatures will be returning tonight and are forecast to last at least until Thursday.
See a photo album of our ride this past weekend by following this link to our East Grand Lake, Maine Facebook page
Ride Safe!
East Grand Lake Snowmobile Trail Report : Vol. 7                                    Saturday February 15, 2014
Between Storms…Ride to Weston
Wow, from all that rain & warm temps….to more cold & 9 & 1/2″ of snow with another 12″ – 18″ on the way!! February is shaping up to be a great month for snowmobiling & 'in between the flakes' we got to go for a ride. The trails had been groomed since the last snow, and starting out on the trail from behind Dave's Hardware that leads to 105 was in great shape, with no washouts, downed trees or branches, and no significant dips. As we passed First Settler's Lodge, it looked like East Grand Snowmobile Club might be getting the groomer ready to go out again.
We had wanted to try out the trail that leads to Weston & points north from East Grand Lake Variety, which we had not been on yet this season…so that we could get a new photo of the lake from a high point right near "Cindy's"…the new ice cream & antiques shop that opened last summer. This trail had previously been groomed, but not again before we got out there so early this morning; and the snow was deep & powdery. Luckily, we had a tow strap since we ended up getting one of our sleds stuck right where the trail ends at Rte. 1. We decided to wait until the trail was groomed again after the new snow they're forecasting for tonight into tomorrow.
We headed back, thinking we might try Trail #7, which looked to have been ridden on by several sleds, and packed down pretty well; but we were thinking about blueberry pancakes…and decided to head home.
See a photo album of our trip to Weston, by following this link to our East Grand Lake, Maine Facebook page
Ride Safe!
East Grand Lake Snowmobile Trail Report : Vol. 6                                    Saturday February 8, 2014
Just got back from an incredible ride to Greenland Cove…this is definitely the best riding of the season so far!
We headed out on the trail behind Dave's Hardware, and noticed immediately how well groomed & in what great condition the trails are in…& they only got better as we headed to ITS Connector Trail 105. We did not encounter any of the washouts, jaw-breaking dips, bare spots or fields; that were there after last weekend, & we were thrilled to see that Trail 7 that takes you to Greenland Cove was groomed and in fantastic shape! East Grand Snowmobile Club has done a great job getting the trails back into shape after so much rain, ice & warm temperatures!
We traveled for quite awhile on Trail 7, and I was glad I had my camera with me; since I found lots of photo ops that I didn't want to pass up…although my riding companion checked on me several times along the way, to make sure I was taking pictures & not off the trail; stuck somewhere. It was cold, about 25 degrees above zero; but with the bright sunshine, multiple layers of clothing & my snowmobile gear; I was warm enough to keep my helmet shield open to be able to enjoy the cool air on my face.
We made it to the lake, which has been well-traveled by snowmobiles; some pulling ice shacks…as well as some pickup trucks; and they were on the lake in great numbers today. The below zero nighttime temps have made the lake solid enough, even for heavy vehicles. The lake was an easy ride…powdery snow in some areas, packed down or groomed in others; and not 'ruddy' or slushy. We got back on the trail (105) at Butterfield Landing and headed home. The area heading towards East Grand Lake Variety was also noticeably improved with no washouts or bare spots where there had been before. We continued on Trail 105 which brought us to the big field behind First Settler's Lodge, where the weekend before I had taken a photo which showed that the trails really needed some snow. February seems to be getting off to a great start for sledding, and although there is no snow forecast for the next several days; the temps should be holding at the twenties during the day with near zero or below at night.
See a photo album of our trip to Greenland Cove today, by following this link to our East Grand Lake, Maine Facebook page
Ride Safe!
East Grand Lake Snowmobile Trail Report: Vol.5
Wed. Jan. 30, 2014
WE NEED MORE SNOW!
The last rain storm and warmer temperatures, took more of of toll on the trails than the previous one; since we didn't get much snow afterwards. Where the trail starts behind Dave's Hardware we quickly encountered icy conditions, and some bare spots. This time the branches weren't blocking our way…they were actually part of the trail, embedded in the snow & ice and sticking up in spots. As we reached the field right before the junction of 105 & 7; there was enough snow cover on the trail itself, but lots of grass showing on both sides. 105 North was somewhat 'rutty' with some deep dips, (one VERY deep); right near where there is exposed water in the 'usual spots' off to the sides…you know them if you've traveled it before.
Heading towards First Settler's Lodge, Trail 105 north becomes a bit rough with some bare spots; but the field right before & beyond the lodge is in decent shape. Continuing on to East Grand Lake Variety, the trail behind them that leads to the lake has one very steep spot with open water, but otherwise is in pretty good shape…although where it comes out at the parking lot for ice fishing shacks & vehicles is icy, and the road has been sanded.
Once we got back to where 105 North crosses Rte. 1, the trail is actually in pretty decent shape; despite being a bit 'rutty'. After awhile it narrows quite a bit, and is a lot like many of the trails that lead right to the lake, with lots of dips….right before you get to the field off of Cropley Rd. That's actually as far as we rode today, it doesn't look like any snow being forecast in the near future…but let's hope that changes soon!
See a photo album of our trip to Greenland Cove today, by following this link to our East Grand Lake, Maine Facebook page
Ride Safe!
East Grand Lake Snowmobile Trail Report : Vol. 4                                                       Sunday January 26, 2013
After getting 4 inches of new snow last night, we were really ready to get out on the trails and ride for the whole day. With all the rain we got, last week; we expected to run into some icy areas & possibly rocks or bare spots, which we did almost immediately after getting onto the trail behind Dave's Hardware in Danforth.
Overall the trails seemed to be in good shape all the way to the junction of 105 & 7, after that there are a few areas of open water to watch out for; mostly to the side of the trail & in the usual spots if you've ridden this way before. You definitely have to keep an eye out for some ditches on either side of the trail and then shortly after that, a few really deep dips; but despite the nice powdery start…once you get to the open field near Partridge Lane you hit some REALLY deep snow & no evidence of anything being groomed or packed down by other snowmobiles. It was also VERY windy, which would probably have covered any tracks of sleds that might have ridden before us; which made riding pretty cold, even with several layers of clothing under our Thinsulate insulated pants & jackets…and our gloves, gators, and Sorel boots.
Once the trails are groomed, they should be very-good to excellent condition…hopefully we can escape the rain that's possible tomorrow and just get the 1-2 inches of snow that's forecast & the wind should be dying down making for some great riding! We'll being posting another report as soon as we can get out there again for a ride!
Ride Safe!
UPDATE! Monday January 20, 2014…We just got 4 inches of new snow yesterday & the temperatures are dropping again! It should take just a few days for things to freeze up and we'll be going out when it's safe to ride. We'll be posting the conditions here asap, & we're working on getting them into The Maine Snowmobile Association's (MSA) Official Trail Conditions Report.
Ride Safe!
East Grand Lake Snowmobile Trail Report : Vol. 3                                                       Saturday January 5, 2013
This will be quick! We need to get out there today before the freezing rain overtakes our area & makes the trails icy & virtually unrideable. Today is the 1st day we're able to ride due to the incredibly FRIGID temps that have plagued our area for nearly a week! although today is forecast to get up into the high 20's the past week has seen temps of 0 to -8 during the day, with lows reaching -19 degrees at night…making it too dangerous to be out there when you figure in the wind chill factor; which makes it feel like 35 below. So we only have one day to take advantage of what has been nearly ideal conditions, before tonight's storm; when we will most certainly be dealing with more ice adding to the 1/2 inch or so that is already there…most likely causing more power outages from the weight of it on tree limbs & power lines. Being so close to the trail, we already heard sleds going by last night & early this morning…everyone wants to get some sledding in while they still can. Back from the trails….and most of the places we went were groomed and in pretty good shape. From Dave's Hardware on Rte. 1 in Danforth, to the junction of 105 North & 7 East…we encountered a fair amount of small branches laying on the trail itself, most-likely from where cutting has been done of ones that were leaning onto & blocking the trail the last time we rode. There is some grass poking through the snow on the field right before you get to the 105 & 7 intersection, and then hardly any branches on the ground or leaning into the trail at all between that intersection, before you get to the big field behind First Settler's Lodge; on the way to East Grand Lake Variety. Watch for 2 exposed areas of open water on the right-side of the trail…which are well-marked with a "Caution" sign, & then get ready for a couple of deep dips right after them. Unfortunately, 7 East was not really passable at all. The same branches we encountered last time were still intruding onto the trail, and with more snow on top of them; it was even worse than the last time we rode. We continued on 105 North, crossing Rte. 1 towards Haynesville, where the trail is groomed & in great shape.
Ride Safe!
East Grand Lake Snowmobile Report – Vol. 2                                        
               Tuesday December 31, 2013
More snow! And none of the freezing mix we were concerned about getting with the last storm, means this past few days have seen better trail conditions, except of course for the branches still covered with ice that hinders your being able to ride without any interference on the trails. Even with the improvement to the trail surface itself, we are now in a major New Year's deep freeze for the next 3 days, with temps at night plunging to around -20 below zero, and a daytime high on Thursday of only -8. If you are considering venturing out in the next few days…PLEASE make sure to be prepared in case your sled breaks down! If you get lost or stuck, wearing the right clothing and having a cell phone with you can make the difference between being stranded vs. getting hypothermia or worse!
EastGrandLake.com is currently in the process of implementing our GEOLOCATOR, which will give our visitors the ability to find their position using their cell phone, other mobile device, or computer. It can be used for finding places to stay, eat, & shop…as a trip planner, residence or business finder either local or statewide. It uses GPS technology to locate a particular location and displays it on a map, which can be viewed on our site. We are also planning to provide a "QR Code" that mobile devices can 'read'; bringing you directly to our site without having to type anything. After arriving on our site you will see the GEOLOCATOR map which has icons you can click on to show a business's information such as hours, address, phone number, and if available a link to their website.
Ride Safe!
East Grand Lake Snowmobile Report – Vol. 1                                        
                  Thurs. December 28, 2013
Finally…SNOW!! But wait…isn't this is December! How many December's can we remember that we've actually have had good enough conditions to snowmobile, or even had any measurable snow on the ground at all (i.e. riding without actually ruining your track on rocks or exposed areas of grass! Well for those of us sledding "diehards" who just have to ride when we see those 1st flakes, it's a jungle out there! Well, in a manner of speaking, after this past 2 week's snow…then ice..then snow again; all the tree branches are coated with about a 1/2 inch layer of ice. On the trails we rode today, 105 North, & 7 East (which takes you to Greenland Cove), dealing with larger branches would have definitely slowed us down but there really weren't too many that we ran into. What really made riding tough & somewhat less than enjoyable, were the TONS of smaller branches that are being weighed down by the ice. Many of them are leaning inward onto the trail, and in many areas they are very close together one right after another. So getting through them is a lot like trying to get through a 'maze', and we were constantly having to weave our way back & forth between & around them; ducking under and dodging the branches, (which at times we had to deal with an entire half of a tree that was blocking our way). We also saw a few spots of open water, which do have signs warning you exactly where they are; and on 105 heading North; a couple of surprise dips that you might want to be ready for if you value your spine. Then there's the lakes… We followed the trail heading to 7 East on the way to Greenland Cove, off which we took a small trail marked "to Sucker Lake". We found ourselves at the shoreline wondering if the lake was actually frozen and safe enough to ride on. We had hoped to follow a trail that was right along the edge of the shoreline, which you could see had recently been ridden on by other snowmobiles since the last snow. We decided to test it out 1st on foot, a few feet from shore. What we discovered was NOT good…we encountered a layer of slush underneath the top layer of the snow…on top of what may have been solid ice a few frigid nights ago. Apparently, it doesn't take much in terms of degrees to undo what the recent below zero temperatures had done. After returning to 105 West, we headed towards East Grand Lake Variety for something to drink. The 105 West ITS Connector trail was somewhat less laden with ice-covered branches and in pretty good shape; and we were greeted by the 1st of several breathtaking views as we entered the wide-open field that you come to after you pass First Settler's Lodge. Many times the wind exposes grass & brush on all of the large open areas, especially when there's not enough of a snow base. In fact, there was only one place where we did encounter those kind of conditions…on the trail that brings you from Danforth to 105 East / West, right before that intersection.
Ride Safe!
East Grand Lake, Maine - Terms:
Sharing is caring:
RECREATION · SNOWMOBILING
east grand lake maine snowmobile trail report maine snowmobile report maine snowmobile trail report snowmobile snowmobile trail report snowmobiling
Dialogue & Discussion